Deal With Anything the Road Throws at You With Our Car Repairs in Carshalton | Banstead Road Garage
Experiencing automotive difficulty in the South West London or Surrey areas? Banstead Road Garage in Carshalton is here to provide timely, affordable car repairs, using both genuine and aftermarket parts selected to ensure the best possible results. Fully insured, we're popular throughout surrounding locales including Banstead, Sutton and Wallington, where we're known for our excellent workmanship and transparent business practices; you'll pay what we initially quote, and not a penny more.
Car repairs can be aided with the use of high tech equipment like ECU readers, which we invest in to ensure our garage has all the features of a modern workshop. But sometimes, you need the keen eye and deft touch that allow for a traditional, under-the-bonnet approach. By combining the two methods, we ensure our vehicle diagnostics are accurate, and you can get back on the roads of Banstead, Carshalton, Sutton or Wallington in record time. Banstead Road Garage also provides a local pick up service if you can't drop your vehicle in with us. Give us a call to learn more, and to find out whether we offer this service in your area.
All of the following services come with 12 month or 12,000 mile warranties, and we repair both domestic and light commercial vehicles:
Engine Repair
Gearbox Rebuilds
Steering Repairs
Suspension Repairs
Brake Repairs
Clutch Repairs
Air Conditioning Repair & Re-gassing
4-wheel Alignment & Balancing
Tyre Supply & Replacement
Bodywork Repairs
Exhaust Work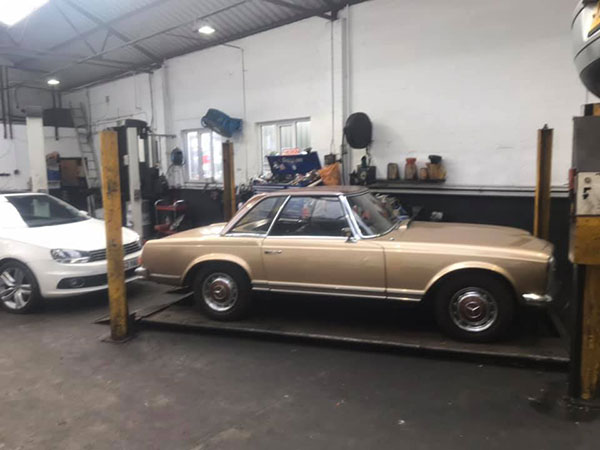 Common Repairs We Undertake
Engine Issues – Common engine issues we encounter include blown radiators, worn gaskets and damaged water pumps. For fast, accurate diagnostics we use sophisticated technology which directly communicates with your vehicle's ECU, extracting fault codes that our engineers can then use to inform their recommendations and repairs.
Brakes – If your brake pedal feels spongy or is vibrating under-foot, or you've heard strange noises or noticed odd odours when applying your brakes, it's worth coming in for diagnostics. Worn discs and pads can make for longer stop distances, putting the safety of our Banstead, Carshalton, Sutton and Wallington clients at risk.
Clutches – Similarly to your brakes, if you notice a change in performance, or old smells and sounds, when shifting through your gears or applying pressure to your clutch, it's worth investigation at Banstead Road Garage. One common issue we deal with clutch slippage, which can lead to problems accelerating.
Tyres – We have a range of quality tyres from top manufacturers, and offer an affordable tyre replacement service to deal with issues like low tread, or serious structural damage. We'd urge Banstead, Carshalton, Sutton and Wallington motorists to not put off replacing tyres that continually suffer from low pressure, as this can mean both increased fuel costs and stopping distances.
4-Wheel Alignment – Poorly aligned wheels can lead to sub-par handling, excess tyre wear and a higher level of fuel consumption. This is especially concerning when it's estimated as much as half of all vehicles suffer from some sort of misalignment. Our garage can provide a 4-wheel alignment service to improve all the aforementioned factors.
Vehicle Welding – A bodywork repairs specialist, our workshop is equipped to handle both spot welding and major work on your vehicle panels and chassis. Whether you've had a minor accident, have a rusted or damaged exhaust that needs to be properly re-attached to your vehicle, or have a major "fixer-upper" on your hands, we'd love to hear from you.
The next time your vehicle requires repair, contact Banstead Road Garage on 020 8642 2242. We're seen as a reliable, local option for car repairs in Carshalton, Sutton and Wallington.